Common usage of running the demo programs is described here.
Build the Demo Program †
Execute:
 $ cd benchmarks/DEMO_DIR
 $ make
Here, DEMO_DIR is each demo directory. See Documentation/Installation Guide for the detail.
Running Command †
Execute as follows:
 $ ./DEMO_PRG -path PATH_LIST -agent AGENT_FILE -outdir OUT_DIR
Here, the demo-specific elements are:
DEMO_PRG

Demo program whose name is *.out.

PATH_LIST

Comma separated path list for the demo program to search agent scripts.

AGENT_FILE

Comma separated agent script(s) in which a reinforcement learning module and the other modules are configured.

OUT_DIR

Result directory into which the program store some data. You need to create OUT_DIR before running; if non-existet directory is specified, no result is stored.
Result Analysis †
In OUT_DIR, the following files are stored:
cmdline

Command line of the execution.

before.agent, after.agent

A whole agent script generated by the program (before the execution and after the execution, respectively).

ext_sto

External storage directory (maybe not used in this case).

included

Directory to store the copy of every included agent file.

log-eps-ret.dat

Log file of (episode number, return in the episode).

log-action-res.dat

Log file of each action.
For example, use gnuplot to plot the learning curve as:
 $ gnuplot
 gnuplot> plot 'log-eps-ret.dat' w l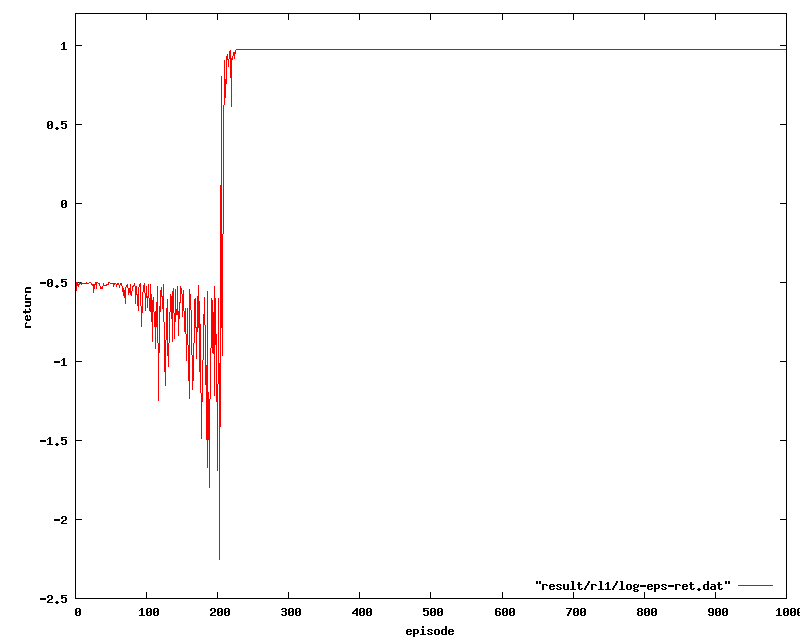 Miscellaneous †
In order to specify the random seed, just append an agent file as follows:
 $ ./maze2d.out -path ../cmn,m -agent ql_da1,seed0 -outdir result/rl1
This is a case of the Maze2D task. Here, seed0 is m/seed0.agent; in this file, the random seed is set to be zero. By specifying the random seed, we can obtain the same result in every run.